I've spent over 35 years fulfilling my dream of being a professional singer and character actress. I've played everything from Simon of Legree in King & I, the Devil's seductress in Damn Yankees, a rainbow of religiosity in Nunsense, the "most beautiful woman ever accused of murder" in Chicago, a perfectly detestable, baton twirling Scout Leader in Cakewalk and every bag lady, cockney washer woman, Irish landlady and Duchess in between.
This has taken me to musical theatre stages, concert halls and churches around the world. Recording studios, singing into closets with microphones, church basements, gymnasiums, fire halls, senior residences, film and television studios, have also become familiar friends.
I became a professional starving artist playing Aunt Eller in a touring production of Oklahoma in Muskoka, Ontario.
The most memorable performance was Mary McCandless as the down-to-earth, warm-hearted and spunky Aunt Eller. She just rolled off the Oklahoma dialect as if born with it, exuding lively good humor with it. — Muskoka Sun
It bears mentioning that the cast was made up of only eight people, causing Aunt Eller to turn into a dance hall girl in a 20 second run around the back of the stage while Judd mysteriously turned into Ado Annie's father. Anything is possible in theatre!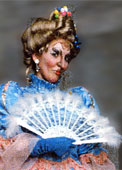 My first professional show in Toronto was The Valiant Tailor, a children's show where I played the dual roles of Dame Adenoid (a six foot Dame with a Cyrano-like nose) and Queen Forget Me Not (a rather wide, 5'2" Elizabeth Taylor look-a-like who had been caught in a wind tunnel). It was here that I discovered my place in the world of theatre; I am a character actress.
The following years I spent at the renowned Charlottetown Music Festival, under the direction of visionary Jacques Lemay and Musical Director, Fen Watkins, appearing in Canada's most beloved musical.
Mary McCandless, is a bluesy, breath of fresh wind as Miss Stacey in Anne of Green Gables. In the musical version of The Shooting of Dan McGrew, McCandless is truly outstanding as Gertie, the salty-tongued, hard drinking, cigar-chomping poker player. — Toronto Star
At this time, I was also awarded the Charlottetown Festival's 1993 Peter Mews Award and was memorialized by local poet, Brian Altass. Click here
The Tony-Award winning production of Showboat, under the direction of Hal Prince, launched my career in mega-musicals in my hometown of Toronto, and later introduced me to a life upon the wicked stage touring the US.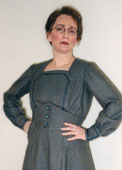 Cast as a Swing in the World Premier Cast of Tony Award winning Ragtime, the Musical, I learned the rolls of five people and understudied one of the principals. I felt as if I had gone back to school. I was sure they had made a mistake when I was cast. How could anyone possibly remember all that? My hair began to turn white.
Understudy, Mary McCandless filled the very big shoes of Camille Saviola last night when she went on with virtually no rehearsal in the role of Emma Goldman. She was storybook wonderful. — Toronto Star
All I really remember was standing in the wings waiting for Emma's entrance music and feeling as if my life was spinning out of control, like an automobile accident in the old black and white movies.
The six months I spent in London's West End, where I was featured in the Hal Prince/Livent Tony Award winning production of Showboat, was memorable. Working with award-winning Choreographer, Susan Stroman, again was a joy. The Prince Edward Theatre stairs backstage were not, as the stage was below street level and my dressing room was four stories up! Ah, the glamour of showbiz.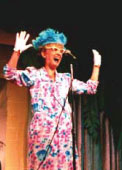 One of the highlights of my career include performing at England's Talk of London. Of course, I schlepped my "Lime Jello" outfit across to the continent, complete with a rotting fox stole to represent the "Ladies of the Sunshine Club". It's so hard to find the proper accessories, even in England.


Tom Kneebone of Smile Theatre Company changed my life. Without having met me, he was convinced that I was perfect to portray The Grand Duchess Olga Alexandrova in a one-woman show, "Lilacs in the Snow". This new musical celebrated the remarkable life of her Imperial Highness Grand Duchess Olga of Russia, Daughter of Tsar Alexander III, sister of Tsar Nicholas II and Aunt to the Grand Duchess Anastasia.
With the loss of my parents, I joined the elite club that you really don't want to belong to. My voice fell silent and my natural gift of healing took center stage www.masterhealer.ca. And, although I promised my darling mother I would always sing, it took awhile to find it within my heart.
On the set of "Hairspray, the Movie", under the direction of Adam Shankman, John Travolta and I spent the wee small hours of the morning at Mr. Pinky's Hefty Hideaway. I was acting LARGE. My hair was the bomb and my pink and white smock makes me look like I weighed in over 300 pounds.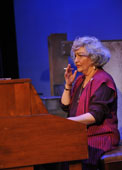 At Sudbury Theatre Center, I had the opportunity to perform the kind of role that I only dared dreamed of as a kid. It was a "Kaye Ballard" role. Jeannette in "The Full Monty" brought me back to a place that I thought had been lost to me. I felt born again as a tough, seen-it-all showbiz musician who "shows up, piano and all". It doesn't get much better than this.
…The support roles are done superbly, with some real standouts, like Mary McCandless as far-over-the-hill showbiz queen, Jeanette — Sudbury Northern Life
Although my résumé reflects huge Tony Award-winning productions, my first love remains the intimate setting of cabarets and concerts. I am constantly reminded that our lives are made richer by all the people we meet in our adventures in living - the people we love … and loath. I believe through music; singing and sharing stories in concert "conversations", that we are able to connect one on one with each other and to something much greater than ourselves.
Although my résumé reflects everything from one woman shows to huge Tony Award-winning productions, my first love remains the intimate setting of cabarets and concerts.




With the voice of an angel, Mary McCandless' concerts consistently leave you feeling as if you've had an intimate conversation with her. Her repertoire encompasses many musical styles and her material can move audiences from tears to laughter.
— Toronto Star
Performing any one of her one-woman extravaganzas, Mary brings a scintillating medley of Broadway, comedy, original material and inspirational music.
— Harry Lewis
Her enthusiasm, creativity, and most of all tremendous talent, gave everyone the opportunity to experience a truly professional production. We all sang along, we laughed, and sometimes we even shed tears at the beauty of the performance.
— Sandra Callery, President, CHICA-Canada
She is an elegant, powerful, artist who weaves material together into a swirling performance that shoots like adrenaline to heart.
— Minneapolis Star-Tribune
Mary's performance is consistently a moving experience for all who hear her. Her energy and sincerity matched with her professionalism and great voice means a magical evening. I whole-heartedly recommend her.
— Rev. Dr. Brent Hawkes, Metropolitan Community Church of Toronto